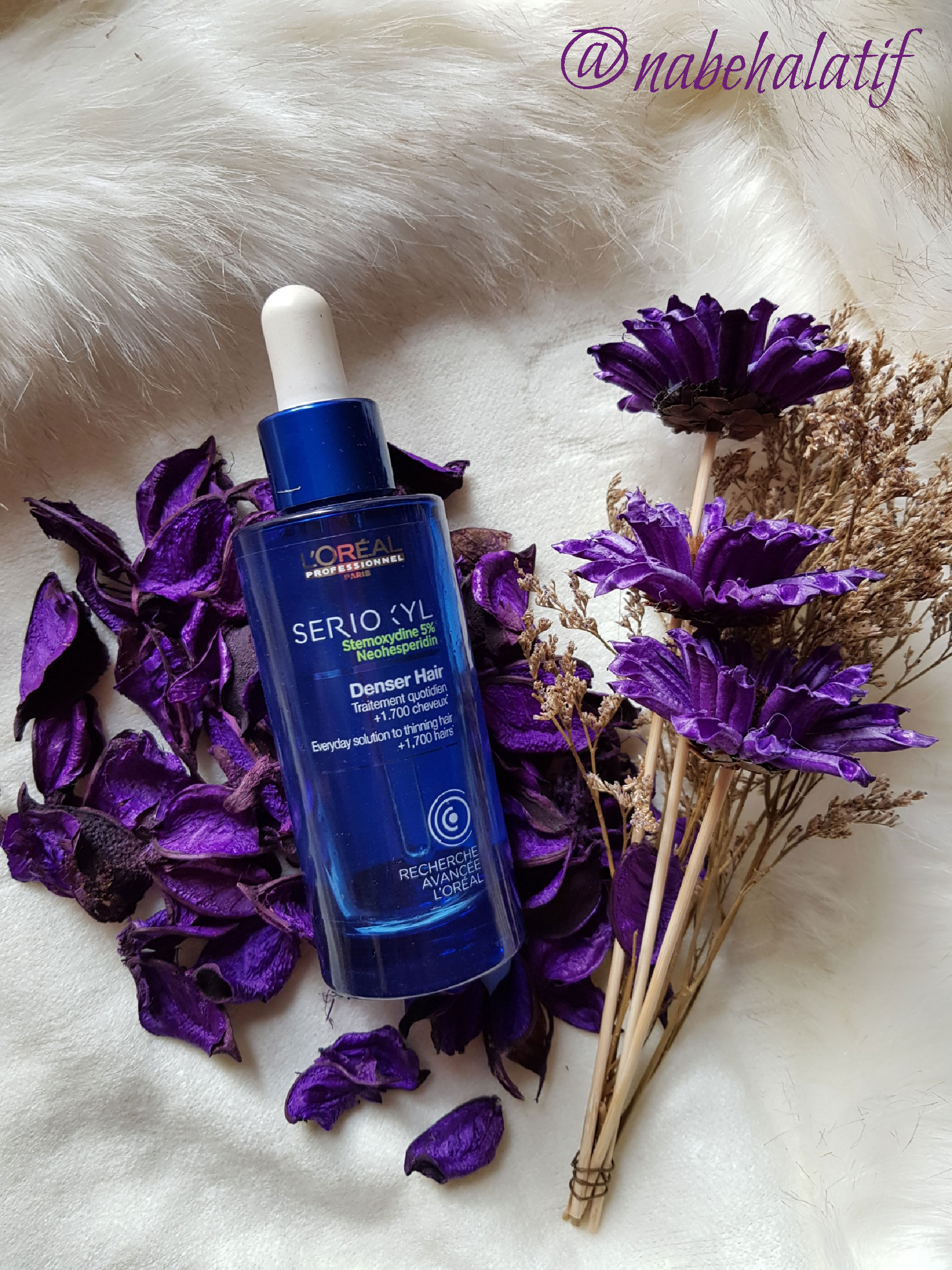 Firstly, My apologies for not being able to blog as often as I would like to. My work life balance is all messed up. I am trying to find a balance and failing miserably. Thanks to the crazy wedding season in Pakistan
Anyways, so I started using Loreal Serioxyl about two months ago. I decided to blog about it later, only after I've tried and tested it. The serioxyl range is for thinning hair has two different sets; In-salon treatment kit and at home treatment. I will be reviewing Serioxyl Denser hair serum. If you've been facing hairfall for a long time and now notice patches where there is no hair, then this is for you. Serioxyl is a patent of Loreal at the moment which is a combination of neohersperidin and stemoxydine. Loreal claims that if applied daily for three months, this serum adds volume and densifies hair. It actually give life to dead cells and make them function again thus you will notice 1700 new strands of hair. BUT DOES IT WORK?
I tie my hair supertight in summers. I just can't stand the heat and the humidity, I think that's the reason why I noticed thin hairline from the front. That's when I thought to give this a try. I started by finding out its price and where to exactly buy it. If you are from Pakistan than you know how tough it is to find new products in the which are not fake. This serum shouldn't cost you more than $25. Don't be fooled by salons selling it a very high margin. Inbox me on my page if you need help!
Here's my experience:
1st Month:
The product comes in a glass bottle and it has a screw top lid. There is a dropper attached to the lid which helps to dispense the product hygienically and easily. The product is colourless and has a runny texture just like water. It has a slight floral scent which dissipates after a while.  They recommend you to use 4 pumps full till the marking on the dropper per day. You can do two pumps at night and two in morning.
Frankly, this is too much for me. I only use one pump per night on the areas that I think need new hair. Before brushing my hair I parted my hair in sections to reveal my scalp. I then used the dropper to dispense the product into my scalp. After putting the product in my hair, I massaged my scalp really well to ensure the product is absorbed into my scalp.  The product absorbed into my hair really well and there were no telltale signs of me wearing this product.
It doesn't make your hair greasy or oily at all. I also love the fact that it did not irritate my scalp and dries super fast. It doesn't even leave any residue behind so you feel like you have put nothing there like water. Like products available earlier, it doesn't have many side effects. Minoxidil which works 5x better than this product have severe side affects. This one has only a few complaints of a minor headache. I didn't get it though as I hardly use even half of the quantity allowed.
Note: Always start with small potion testing for allergies or reactions. 
2nd Month:
I noticed tiny baby hairs where there were none so that's a good sign. I can tell for sure that it wasn't my natural hair cycle as I am aware that they don't regrow at this pace. Loreal claims that this one bottle should last 3 months if used 4 pumps a day. I fully disagree with it though! Make sure that you cover all roots where you want to have more hair but try to restrict the pumps to a maximum of 2 per day. It works slow as compare to other treatments but it sure does. We don't realise that even a 4% increase in our hair density in areas where there was none is a big step. If you are going through other serious male pattern baldness or severe hairfall then please do go to the doctor first. The hair fall can be a symptom of a serious underlying problem.
I will continue using it for one more month to see how it goes.