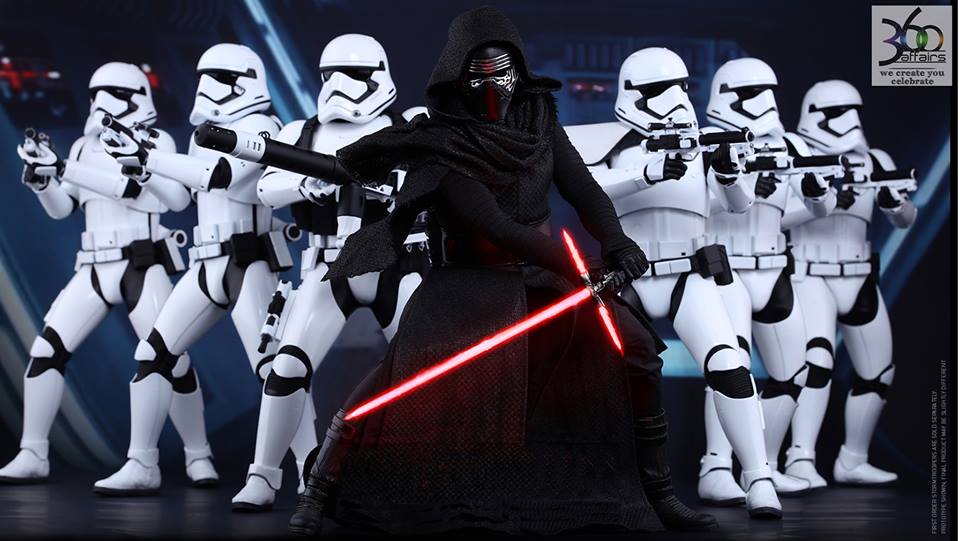 The highly (more like hotly!) anticipated Star Wars latest movie, "The Force Awakens" was released in Pakistan on 25th December 2015. We couldn't have hoped for a better gift from Santa 😉
The premiere was held in Cine Gold Plex in Islamabad which was organised by 360 Affairs in collaboration of DC & Cine Gold Plex itself. I will gladly define this event as 'star studded' evening with awesome ambience which brings out the fan in you! The only thing more fun than watching the new Star Wars movie is seeing the amazing costumes the organizers had put together. From Stormtroopers, Princess Leia to Chewbacca, darth maul etc, we could see Star Wars characters hanging out with fans & taking sefies (holding swords 😉 )
 Later you get yummy cookies to eat of star wars theme. Man it was a heaven for star wars fan! 
Amir Khan and Reham Khan were the chief guests who took care of lucky draws so there were gifts as well! Check out these images for an overview of the event.
It's always a pleasure to watch a movie in Cine Gold Plex. I find their screen and sound system much better than any other in the twin cities. Of course the decor is fab too! It was much more special on 25th Dec, 2015. The decoration was mesmerizing and GRAND! Add to that the way that the characters were able to interact with the guests, and it was a great location that made for an incredibly fun experience.. Where you can get  some character photos as well! (and presumably, most Star Wars fans are very interested in character photos). Also the fact that crowd had many familiar faces like Reham Khan, Aamir Khan, RJ Wes Malik etc.
The audience (mostly fans of Star Wars series) were in awe of it through out the movie. Every aspect of the movie was appreciated with claps and whistles, and loudly gasped at the film's various twists and turns. It overall made the experience more memorable. Hats off to the management for tackling everything smoothly. It isn't often when I get to attend events like that.
What? You ain't feeling the Force yet? Then probably it's time to move on the next wing. 
Now let's review a bit about movie itself. Alright so it gives a fine balance of past and future, yet not giving any bit of spoilers! If you know what I mean 😉 Adam B Vary, senior film reporter for Buzzfeed, tweeted: "Rest easy: TheForceAwakens is 100% StarWars", while LA Times film writer, Rebecca Keegan, wrote: "Story, characters, design, humour – StarWars fans, this is the movie you're looking for."
The Force Awakens doesn't feel outdated. Even those who are watching it for the first time will stay hooked to their seats till the movie ends. Yet from the creators to machines, it gives the look and feel of the old movies. I loved it! Although there were a few fans who were disappointed too. They stated this movie to be derived from video games world, unlike the former elegant versions. Haters gonna hate! (apologies if you are one of them) 
I will rate this movie 4.5/5