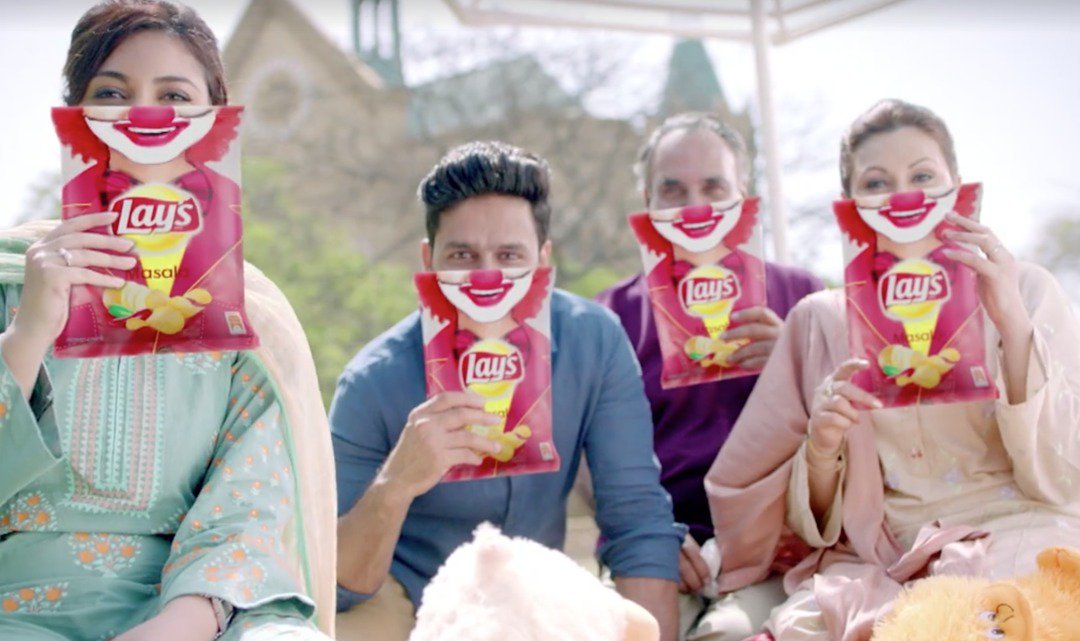 Lay's new TVC is out and we are loving it! Its exciting Smiles Campaign (Lay's Say It With A Smile); an initiative to be an instigator for Pakistani's to Say It With A Smile. With the most clutter breaking, engaging & exciting Lay's Smiles packs, Lay's will be spreading smiles all over Pakistan!
With 25 unique Lay's Smiles belonging to multiple movie characters/genres, you can add flavor to any situation with Lay's! You can use the comical smile pack to cheer someone up or a romantic smile pack to confess your love! There are endless possibilities to the creative situations where you can use these amazing Lays packs to "Say It With A Smile".
Lay's Say It with A Smiles campaign has been launched with an exciting TVC featuring none other than Shahid Khan Afridi! It also features Momal Sheikh & Imran Abbas.
To make sure that Lay's really makes everyone smile, as part of the Lay's Say It With A Smile campaign, the brand has also launched an amazing Lay's Win It With A Smile promo whereby you get a chance to win Samsung S7 Edge daily and a cash prize of a whooping one million rupees every week! Win It With A Smile promo TVC again features our favourite Shahid Khan Afridi.
Simply scratch the promo code on the back of the Lays Smiles pack and SMS to 9005 to make an entry. Remember that your SMS counts as an entry, not the code! Good luck and Keep Saying It With A Smile!
Do you wanna know how you can win a fabulous new phone or a cash prize of Rs. 1 million? Simply scratch the code from any Lay's Smiles pack and SMS to 9005 to be a winner like AFRIDI! #WinItWithASmile 
That's how social media reacted to #SayItWithASmile campaign:
Is it just me who literally scratch and text every time I eat Lays? You never know when you get lucky 😉 #SayItWithASmile pic.twitter.com/nlNRahpMbm

— Nabeha Latif (@Nabehal) May 19, 2017
So many new smiles for every situation, thus is exciting af.
I need a Hitler smile, can I geddit to #SayItWithASmile ? pic.twitter.com/xorTmKq7Da

— Mahrukh Talat (@MahRukhTK) May 20, 2017
Who doesn't like Chips ??#SayItWithASmile pic.twitter.com/qBYdFtwYhJ

— Chai_Coffee☕️ (@Ayesha_Umaiir) May 17, 2017
.@LaysPakistan has proved once again to be an innovative player in these times where digital media is so rampant. #SayItWithASmile pic.twitter.com/Rb52LCGmBj

— Snober Abbasi (@snobers) May 17, 2017
Lay's Say It with A Smiles campaign launches an exciting TVC featuring none other than Shahid Khan Afridi! ? #SayItWithASmile pic.twitter.com/5SBjxCUEQR

— Aman (@LalaLoyalist) May 17, 2017
You know you can win millions?
Scratch the promo code on the back of the Lays Smiles pack & SMS to 9005 to make an entry #SayItWithASmile pic.twitter.com/lsTg1iH8FR

— Nabeha Latif (@Nabehal) May 19, 2017