I was always suspicious when it comes to trying local cosmetics. My theory is simple; both food and stuff you put on your face/body should be of utmost quality. If you wish to age gracefully 🙂 I was contacted to review Clazona products. I received following in the mail:
BB+ Cream: The glowing foundation that has added SPF for daytime use. What I liked most about it was the colour which was same toned as of my skin colour. It gives a light to medium coverage for everyday use. It's 3 in one: whitening cream, sunblock plus foundation which will save tons of your time. You can also apply foundation on top of it if you want high coverage and it can be applied on moisturiser in case if you've dry skin like I do. The all-in-one formulation makes it ideal for daily use lasting up to 12 hours.
Bright Red Nail Enamel: I have got a weakness for nail polishes so this was another thing which I was so happy to add to my collection. The best part of this colour is that it stays for 2 days with little to no breakouts.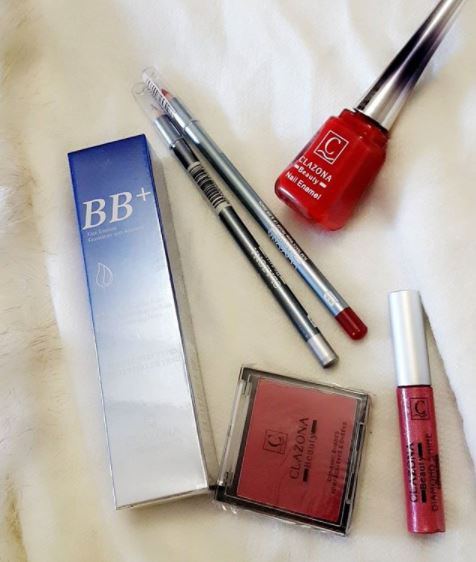 Diamond Shine Lip Gloss: A very yummy lip gloss which is shiny in texture. For those who love matte, they can also buy matte shade glosses at Clazona. Shine one is for use in parties. I use it on top of my lipstick coat for a longer stay.
Blush: The colour that I got was pretty dark which I was sure that it won't suit me. They do have other colours though and also a 6 colour blusher kit.
Lip & Eye Pencil: These are pretty reasonable lip and eye pencil. I use pinkish one for lips and silver one for eyes. I am in love with both of them as they can pretty handy in locking my look. Plus the prices are AMAZING.
What are your favourite Clazona products? Share away!