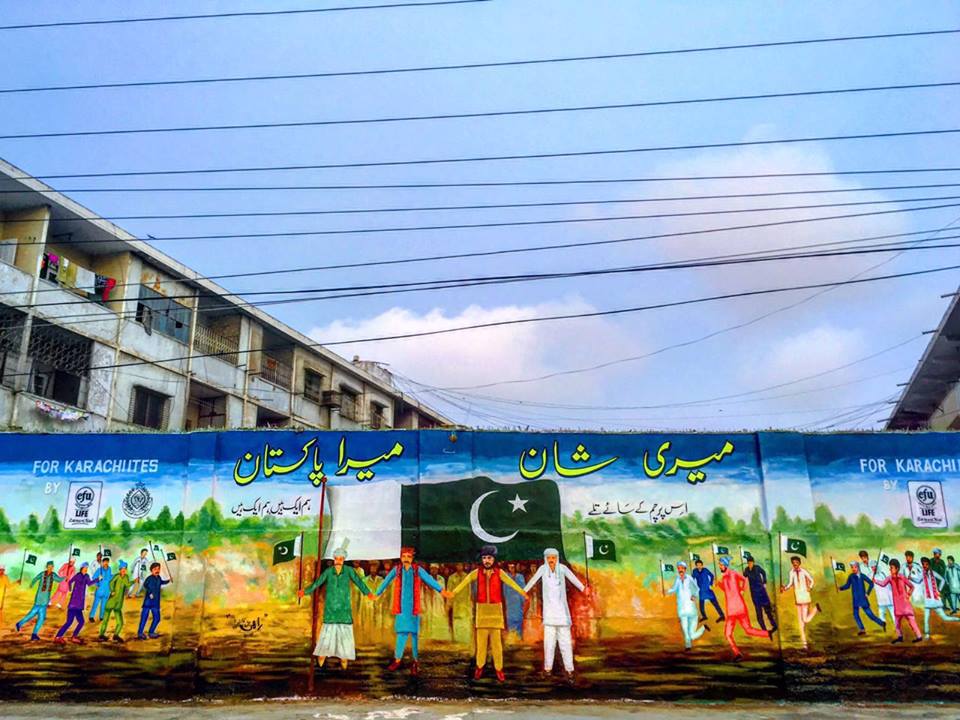 It's no surprise that anyone who has lived in Pakistan – have seen walls full of disturbing ads or political slogans. The walls which are actually government's property but few illiterate people don't think twice before filling them with garbage!
Hence we know there's a dire need for a cleaner and better Karachi, and one of the ways to eradicate wall chalking is through wall art, highlighting positive imagery of Pakistan. EFU Life started a campaign in which they encouraged artists to come forward and participate in wall art depicting the rich culture, festivals and national monuments of Pakistan. In 2016, under the guidance of Commissioner Karachi, Mr.Ejaz Ahmed Khan, and his esteemed team of Commissioner Karachi Division, EFU Life initiated 'Meri Shaan, Mera Pakistan', a project of beautifying Pakistan through thematic wall art.
The aim of this campaign is to reclaim different spaces that have depreciated over time.  The project has already covered walls at Ayesha Manzil and National Coaching Centre. It is such a satisfying feeling to see this project right before the independence day of Pakistan. I hope initiatives like this continue especially from the private sector of Pakistan.
After the successful completion of two projects in Karachi; a 2000 sq.ft wall at Ayesha Manzil and a 3000 sq.ft wall of NCC Sports Complex, EFU Life has now extended this project to a third location, the Aga Khan Park, Garden, opposite Ismaili JamaatKhana covering a space of over 7000 sq. ft.
There was also a competition to encourage local artists to come forward. The winner of which received a smartphone plus recognition Pakistan wide. Here's how twitter reacted to it.
Don't you absolutely love the wall art? Let's encourage that in Pakistan. Join #MeriShaanMeraPakistan initiative and spread the word around. pic.twitter.com/9bY0qNv1qx

— Nabeha Latif (@Nabehal) July 28, 2017
Beautiful paintings on the wall of Karachi to express love for Sabri ?
We need more colourful thoughts!#MeriShaanMeraPakistan pic.twitter.com/dx97SpsvyA

— Zia Zuberi (@ZuberiSpeaks) July 27, 2017
Let's look at some wall art done last year at Ayesha Manzil & NCC to own the walls of Karachi and beautify them ❤❤#MeriShaanMeraPakistan pic.twitter.com/G9pjr8Hr8F

— Amber Zulfiqar (@Cheese_Pakora) July 28, 2017
EFU Life Insurance to beautify the walls of Pakistan just like they did last year! #MeriShaanMeraPakistan pic.twitter.com/eI7x5aDOJu

— Sed Nugget (@SohaTazz) July 28, 2017
This artwork speaks a lot about the mindset and culture of the nation. Please appreciate when you see them! #MeriShaanMeraPakistan pic.twitter.com/pinb14OcLG

— Nabeha Latif (@Nabehal) July 28, 2017
No more wall chalking but just cool art work on streets! #MeriShaanMeraPakistan pic.twitter.com/hU1ZH8goB6

— Bushra Joyo (@filmyjoyo) July 27, 2017
Loving the talent of Pakistan. You won't believe it that these are actually street arts being done in Karachi. #MeriShaanMeraPakistan pic.twitter.com/0DcHHAMvHx

— Nabeha Latif (@Nabehal) July 31, 2017