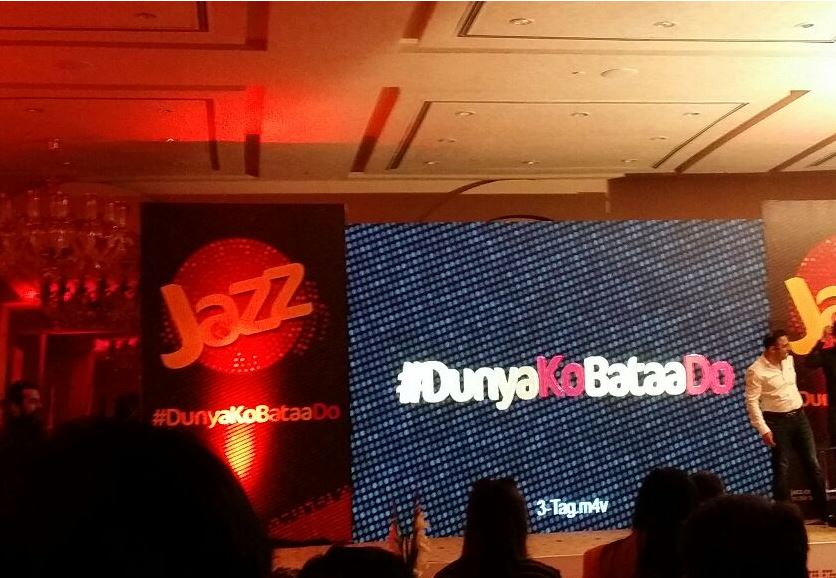 Hey readers,
I have got the latest news of 2016 which might surprise you. On 23rd April 2016, Mobilink very unexpectedly called a glamorous unveiling ceremony which was organised in partnership with Syntax Communication. During the press released, they announced that they are all set to bring Digital revolution in Pakistan. They intend to do all that with a refreshed logo and a bold new identity of Jazz.
In plain words, Jazz will now encapsulate multiple products and services on offer by the Mobilink. I have a feeling that this has to do with Mobilink's merger with Warid, although it's not announced yet so I can only speculate. 
It was launched with the tagline, "Dunya Ko Bataa Do" (Let the world know). This powerful slogan reflects a promise to let the world see what Pakistan is all about, rising above the discrimination and media biases. It also conveys a message of not suppressing any injustice as now Mobilink will digitally empower every citizen. Aamir Ibrahim, CCO & Deputy CEO said at the launch:
"This is the begining of a bold new era for us, our consumers, the industry and the entire nation. Jazz was one of Pakisan's most powerful bands, loved by all, and the time is now right to reintroduce it as Mobilink looks towards the future. Sprearheading a digital revolution in the country throughout our innovative product and service offerings; we have made the decision to make Jazz the face of the company's digital journey"

A mandatory selfie of bloggers with Shahbaz Maqsood Khan, Director Marketing of Mobilink. You can guess who I am right? The one in the white and blue top and jeans 😉
Shahbaz Maqsood Khan, The Director Marketing of Mobilink further shed light on it and mentioned that
"By clubbing all our existing and upcoming innovative products and service offerings under a brand loved by many, we are looking to give our subscribers a sense of belonging for the new horizons we are journeying towards. Duniya Ko Bataa Do was chosen as Jazz's slogan in a bid to position it as a platform offering multiple innovations to subscribers whereby they can showcase their true potention to the world. Jazz is now all set to offer our subscribers whereby they can showcare their true potential to the world. Jazz is now all set to offer our subscribers freedom of choice, digital empworment and the powe to do more with less; ultimately reshaping society".
Few videos from event:
"Yes, we are a strong nation" Shahabaz Maqsood. #Jazz connection is more than just few mins or Mbs #DunyaKoBataaDo pic.twitter.com/gXTpUx77XW

— Nabeha (@Nabehal) April 23, 2016
Wow this is grand. So the actual idea is to reinvent Jazz. #DunyaKoBataaDo #Mobilink pic.twitter.com/yRYy52et02

— Nabeha (@Nabehal) April 23, 2016
Awesome performance at @Mobilink event! Woww SRK music ?? #DunyaKoBataaDo pic.twitter.com/QodPiAhOrb

— Nabeha (@Nabehal) April 23, 2016
Only time will tell if this is a good move or not but the team looked promising. They even admitted that they lost track of keeping best quality in the midst of competitions going on. As they still are the market leader in voice and data services, they want to focus now on quality rather than quantity so you can expect few but valuable products and services coming under Jazz.