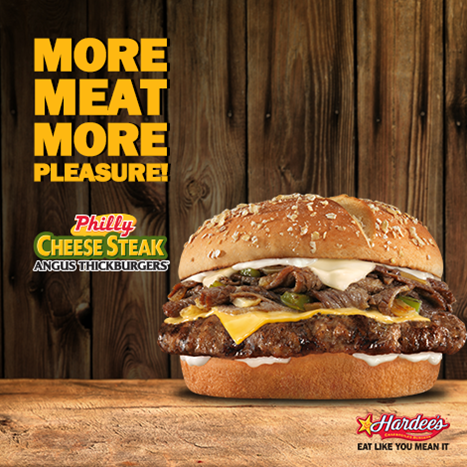 #Phillymeetsfoodpanda is the perfect hashtag to describe the combo of these two! Alright so as you know, my office is in Sector E 11 which is quite far especially when you want to order something for lunch. Not many restaurants like Hardees, Mcdonalds or KFC, deliver in this sector. Hence, my choice is always to make my order through foodpanda. The awesome point about them is that they never fail to deliver on time! 
Alright, so I was bit skeptical when I was told to review a new entry in Hardees Menu.  Philly Cheese Steak Angus Thickburger. When I got it, it doesn't seem to be that fat like they portrayed in their ads so that was a disappointment.  Plus I always feel like companies like Hardee's can do better job with coke and fries. Their curly fries are the only ones that I love.
Anyways, then I took the first bite of this burger and I was in awe! IT's so yummy and delicious that I couldn't stop myself till I finished it fully. This time, Hardee's has actually outdone themselves with a burger can be very filling. The quality of Steak wasn't any less than the Texas Steakhouse.
If you are a foodie, you don't even have to be a fan of burgers to want to try this one. Its taste is very subtle, creamy and juicy at the same time. I doubt I would've tried if it wasn't for foodpanda for convincing me to go for it. I am glad that they did!
We will rate it 5/5 
P.S If you have an issue with delivery as well then go for Foodpanda. They don't only deliver it on time but they somehow deliver it fresh (even during winters :O)