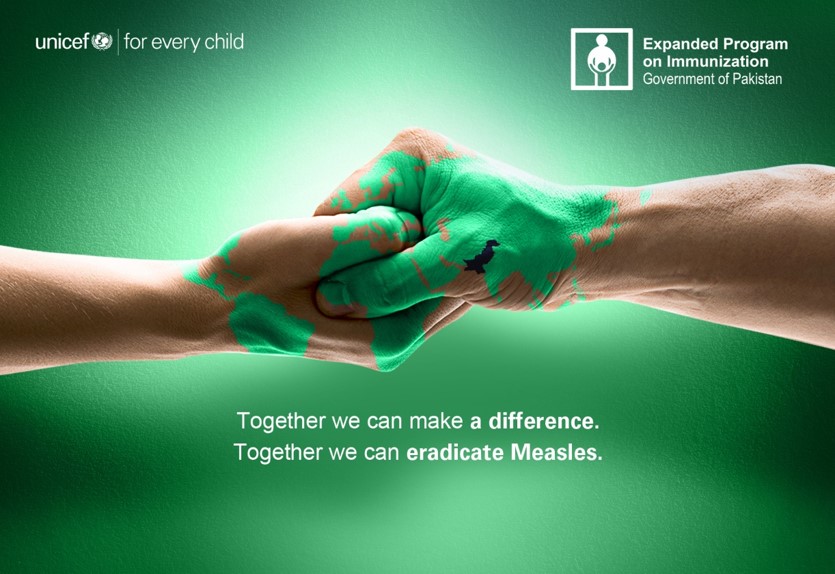 On the verge of a measles catastrophe, the country is facing an increasing number of reported cases compared to 2016. For the previous and current year, a report by the World Health Organisation presents a dire picture of Pakistan's weak surveillance.
The numbers reveal that Pakistan not only experienced a significantly higher number of cases than the entire region but that cases rose by more than 100 per cent in 2017, compared to the previous year.
According to the Measles-Rubella Bulletin, the data analysis on the region reports 6,494 cases in 2017, while in 2016 the reported cases were 2,845. A total 10,540 suspected cases were tested in the lab from January 1 to December 31, 2017 and 6,494 of them were positive. The report states that although all the suspected cases were tested in the lab, none were investigated for further action and planned campaigns. The country reportedly received 367 Rubella cases for the same year.
According to WHO standards, 95 per cent coverage is the necessary rate to avert an outbreak as the disease is highly infectious. Even reaching the 80 per cent coverage threshold will avert large-scale outbreaks.  Except for Punjab and Azad Jammu and Kashmir, all other provinces and territories report 50 per cent or less vaccine coverage
It is a matter of great concern that measles has become one of the major contributors to the mortality and morbidity of children all over the world including Pakistan because a large proportion of our children are not vaccinated against measles. Two doses of measles vaccine are supposed to be given to all children in Pakistan, first at 9 months of age and second dose during the second year of life.
In 2016, Pakistan tested 5,871 cases, 2,845 of which were confirmed positive. Measles incidence for the year was 16.06 per cent and has gone up to 36.67 per cent in 2017. The officials fear the actual number may be much higher
The nationwide measles eradication drive was set to kick off from 22nd October and continue till October 27. It was further extended for 2 days for Islamabad due to very low turnout in the capital.
To impart knowledge to locals against the fatal disease of measles and to motivate them to vaccinate their children against the disease, an awareness session was held at Polyclinic Islamabad where President himself addressed the issue.  "Those children who receive the anti-measles vaccine will be negligibly suffered against those infants who do not get it at all", he remarked.
It was appealed to the parents, teachers, civil society and Ulema to come forward and strengthen the hands of the government in this national cause and make the future of 'our children safer'.
Punjab Health Minister Dr Yasmin Rashid said that 15,000 teams of the health department have been deputed in all areas of Punjab and about 11 million children would be injected anti-measles vaccine. "Injection would be administered to children who were 6 months to 7 years old," she said.
The campaign against measles was much complicated than polio as the anti-measles vaccine could not be taken to another area or spot once it was opened. Thus urge your family and friends to get children to get vaccinated.
Aamer Mehmood Kiani, Pakistan's Federal Minister Health, went to see children being vaccinated against measles in a rural health centre on the outskirts of Islamabad. Ms. Aida Girma, UNICEF Pakistan Representative, joined him for the monitoring visit.  From 15 to 27 October, 32 million Pakistani children – one-sixth of the population – were being targeted for vaccination against the deadly measles virus.
Any information regarding measles eradication drive can be gotten from helpline 0800-99-000.