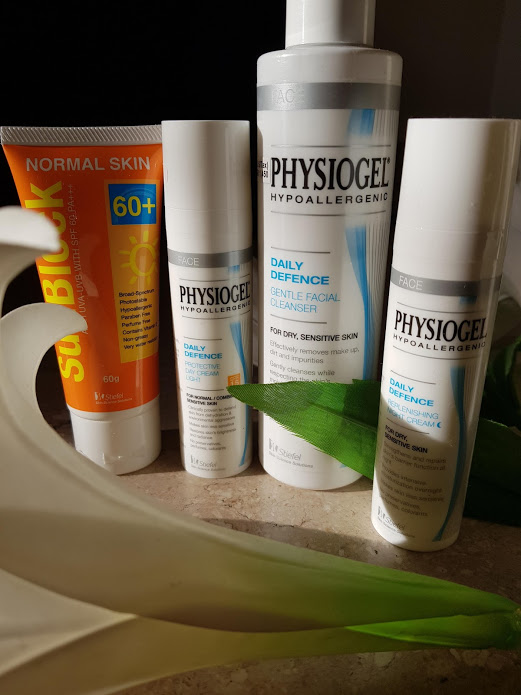 Here's an honest review about Phyisogel products that I received in the mail a few weeks ago.
Physiogel Gentle Facial Cleanser (Daily Defence)
I tried the Dry, Sensitive Skin one. It has the following benefits:
Effectively removes makeup, dirt and impurities
Gently cleanses while respecting the skin's moisture barrier
Leaves skin feeling clean, soft and barrier
No preservatives, perfumes or colorants added
Results: It doesn't leave skin dry after wash. Although if you use too much makeup, I would recommend that you first remove your makeup with wipes or makeup remover. It leaves skin look beautiful and softer. I would recommend it fully especially in winters. It's of only 1,450 pkr
Physiogel Protective Day Cream Light (Daily Defence)
It is clinically proven to defend skin from dehydration and environmental aggressors
Makes skin less sensitive
Restores skin's brightness and radiance
Contains SPF 15, and antioxidant
Helps prevent the skin from environmental damage
Even it doesn't have any preservatives, perfumes or colorants
Results: It's best to be used under the makeup. For me, it works as a primer for smooth application of makeup. It really hydrates my dry skin and keeps it softer till night. Although I would always recommend it in combination with sunscreen. It's of only 1,720 pkr
Physiogel Replenishing Night Cream (Daily Defence)
It strengthens and repairs skin's barrier function at night
Provides intensive moisturization overnight
Makes skin less sensitive
Skin feels well nourished in the morning due to added Vitamin E Acetate
Results: I love the way it works almost instantly. In a day, my skin felt better especially in winters. I mix it with my face night serums. Its a very gentle formula. Although they say it has no scent, that doesn't mean that it smells bad. It leaves a very refreshing feel to the skin. Price 1,750 pkr
Stiefel Sunblock 60 PA ++ (Normal Skin)
So we all know a million benefits of using sunscreen in this century. It prevents:
Pre-mature skin ageing
The appearance of wrinkles and pigmentation
Sunburn
Results: It's a non-greasy formula which is also water resistant. I love how it gives full coverage from sun and leaves skin feeling supple and healthy. Price 750 only
Tell me your experience of using Phyisogel Pakistan.