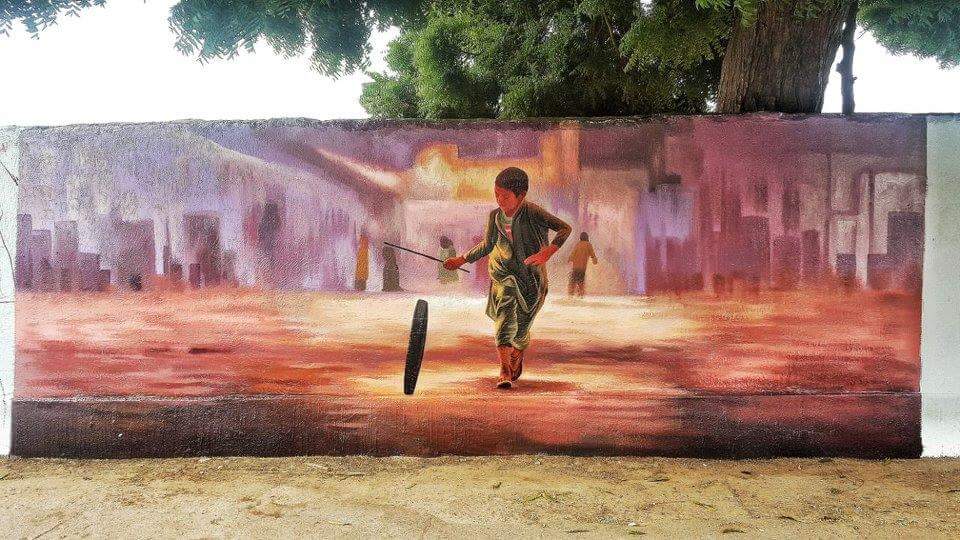 I am writing another blog on the same topic because I had to share this gallery on my blog. Let me know if you will also fall in love with it or not!
We know that art speaks a lot about the mindset and culture of the nation. It gives an insight to the prevalent issues of society and the belief system. Don't you absolutely love the wall art? You could see meaningful images of hospital and schools.A reminder to fortunate ones to not take things for granted. Mostly they comprised of colors of nations – our beautiful culture which is our foundation. You will also see the CEO of @EFU_Life with Mr.Ejaz Ahmed Khan, Commissioner Karachi. He was the chief guest for the event

About Campaign:
EFU Life, the leading life insurance provider in Pakistan is committed to serving the people of Pakistan and believes in giving back to the society through its various CSR initiatives.
'Meri Shaan Mera Pakistan' is a CSR initiative by EFU Life in collaboration with Commissioner Karachi Division to reclaim the walls of major public areas of the city through thematic wall art and aims to eradicate wall chalking and negativity on walls.
EFU Life inaugurated 'Meri Shaan Mera Pakistan' in 2016 on Pakistan's Independence Day, and after the successful completion of two wall beautification projects in Karachi, at Ayesha Manzil and NCC Sports Complex, the Company has now extended this campaign to a third location, the Aga Khan Park, Garden East.
The campaign rejoices the spirit of patriotism, and depicts the rich cultural heritage of Pakistan. Celebrating the cultural diversity of its people and yet unified under the nation's flag is the underlying theme of the campaign.
Speaking at the inauguration ceremony, Mr.Taher G Sachak, MD & CEO, EFU Life said 'I take this opportunity to thank Mr.Ejaz Ahmed Khan, Commissioner Karachi and his team for their support, and commitment in partnering with us to make this project a success. He emphasized that we as Pakistani's need to take ownership and responsibility for our country. There is a lot that we need to be proud of, and it's important to bring forward the positive mind-set about our rich cultural heritage especially in the youth today. What makes this campaign truly unique is not only the underlying message of patriotism, but the involvement of the youth, with active participation from the students of different universities to execute the project. He also added, that 'the company is further exploring avenues of executing such projects in other parts of the country. '
Mr.Ejaz Ahmed Khan, Commissioner Karachi commended this collaborative effort and stated 'such beautification projects are essential for enhancing the aesthetic aspect of the city. Aga Khan Park is the third project that we have collaborated on with EFU Life and other corporate entities must come forward and take a disciplined approach to CSR initiatives. I urge all stakeholders to join hands with the administration to bring back colors to the city of light.'
EFU Life has partnered with 'Abdoz Arts' on this project, an organization which aims to reclaim the public spaces of Pakistan through fine art