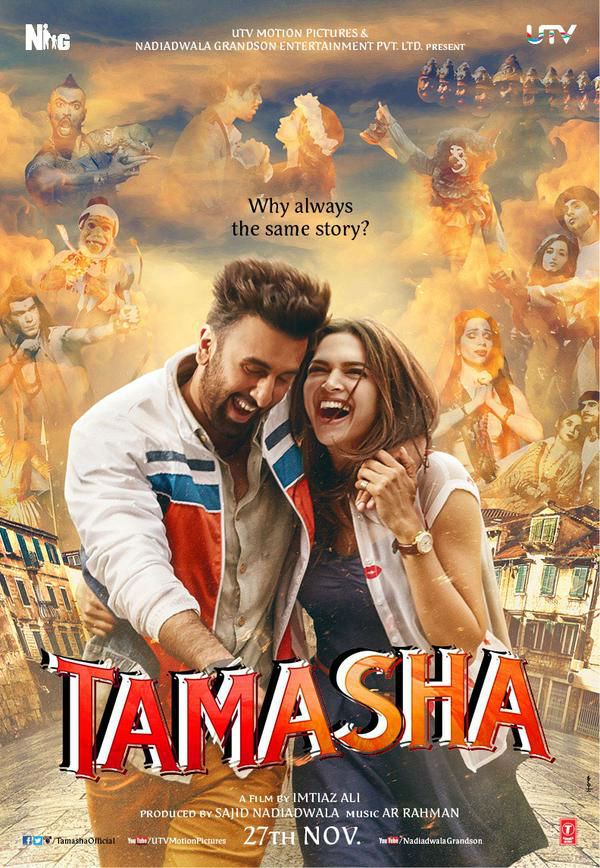 Here's my review from much anticipated Imtiaz Ali's next movie "Tamasha".
It was an emotional ride I must say but was it worth the watch? Let me clarify that. The starting was the only thing which I didn't like much. Initial part of the film  forces Ranbir & Deepika to meet in astonishing island of Corsica and this turns into an annoyingly artificial construct where they can't reveal who they really are. Yet they end up getting pretty close to one another. How can you get so close to someone and not even know their names?
It is often that we get to know someone through few meetings and later we realize that this person isn't the one we fall in love with. Deepika goes through same when she meets Ranbir again after coming back from Corsica. Movie gets intense when Ranbir Kapoor's own struggle gets into highlight. He pretended to be someone who he wasn't because he had a thing about believing stories as real. He played his part well as an act to just make Depika fall in love with him
What he doesn't realize is that he is actually living the true self during that time. This movie again questions the real dilemma of youth nowadays. Do you've to be majors in finance or a doctor or engineer to make your parents satisfied. I honestly loved this movie but if you are looking for typical bollywood masala or love story then don't bother wasting your time! I always expect something out of the box from Imtiaz Ali and this time again he has done his job well! Apart from intial few scenes, it was AWESOME!
Side Note: Do you know Ranbir charged 38 Crores for Tamasha? Damn!
We will rate it 4/5