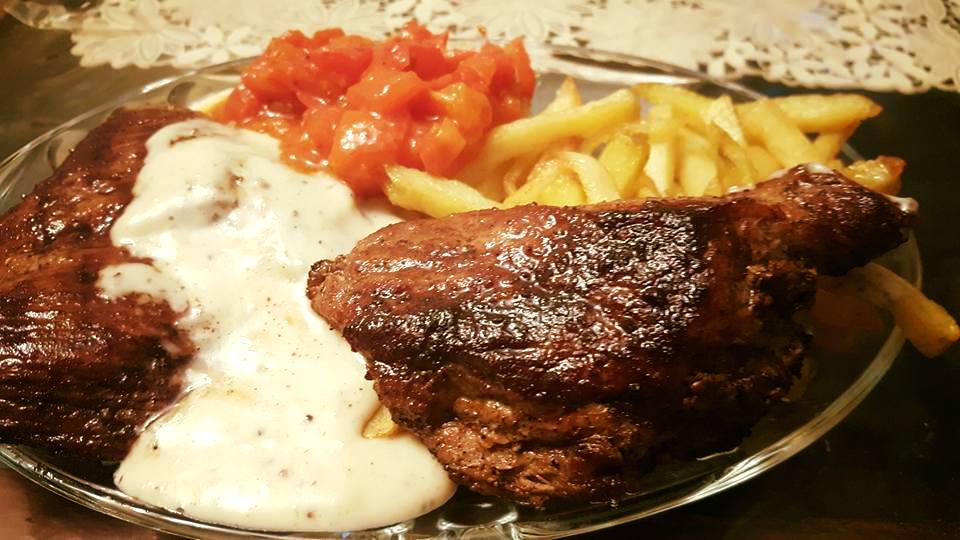 So I am a foodie. Not only that, I find immense pleasure in experimenting with sauces and spices while cooking. I don't cook very often but when I do, I try to experiment. Here you will get recipes of only those experiments which didn't end in the dustbin 😉
Alright so next time I will make sure to do step by step photos or video tutorial as I know they are easier to replicate.
Steaks Marination:
Flank steaks by cutting them into thin-ish slices. Make sure they are thin-ish and not too thin otherwise you won't get juicy steak feel after grilling. Marinate slices with following:, vinegar, garlic, ginger, oil, soy sauce, salt and pepper are blended and then poured over flank
1 teaspoon Worcestershire sauce
1 teaspoon oyster sauce
1 tablespoon vinegar or lemon
garlic and ginger paste
1 tablespoon soy sauce
salt and pepper
Feel free to adjust them according to your taste.  Pour them over flank steaks. Let the meat sit in this tangy marinate overnight in the fridge to emerge flavorful and very tender.
Tomato & Cream toppings:
Put diced tomatoes in a pan with oil. Add salt, red chilli powder, one spoon chilli garlic sauce and hot sauce. You can add a hint of tabasco in it as well. Stir them till tomatoes blend in. You can splash in a bit of water to avoid it from burning.
In a different saucepan, melt butter or margarine over medium heat. Stir in enough flour to make a roux. Add milk to it slowly, stirring constantly. Stir in cheeses, and cook over low heat until cheese is melted and the sauce is a little thick. Add salt, oregano and hint of Ajinomoto depending on your taste.
So here you've two different sidings to have your steaks with. These two are my favourites but you can experiment new things as well, depending on your taste.
Grilling:
Prepare and preheat barbecue/grill pan to high heat. I made mine in a grill pan. Place steaks directly on grill and sear one side for about 15 seconds. Turn steaks over and cook for about 2 minutes, then turn over and cook for another 2 minutes. Repeat this for four to five times for medium-rare, depending on thickness.
P.S it's good to always test a little bit for doneness as the various meats can take different time in getting done.