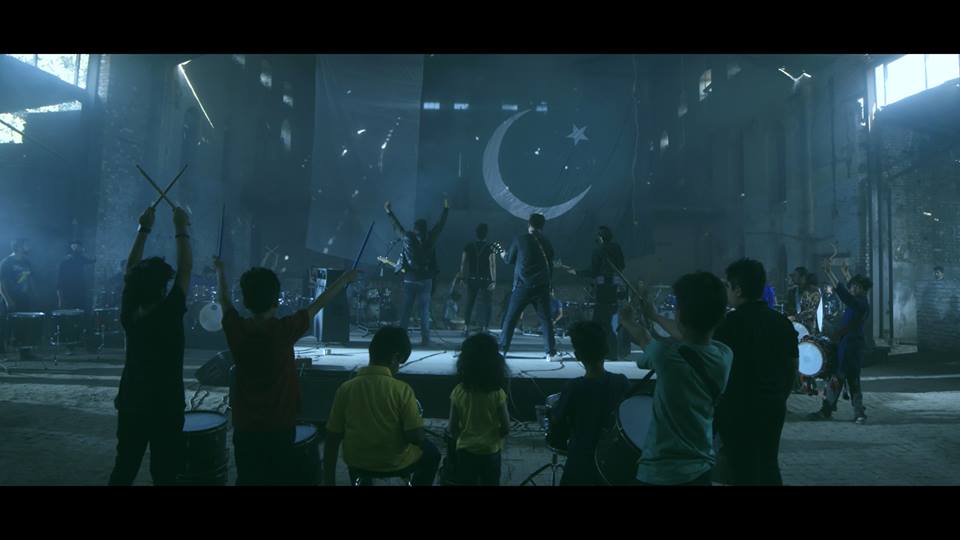 Nothing gets my blood pumping quite like a well-executed rock anthem – the roaring riffs of a down-tuned guitar, vocals that send shivers through your body and the pounding rhythm of the drum beat, all in perfect, chaotic harmony. How does one elevate that which is perfect? The answer to that lies in Call the band's new single: Pakistan Zindabad.
I'll be honest, the track's got me all riled up and ready to headbang! Xulfi, producer extraordinaire has really struck a goldmine with this ensemble of 40 talented drummers from across Pakistan, featuring a diverse blend of kits, percussions and dhol – a veritable drum orchestra for the ages! To give you an accurate idea of what went through my head during my first listen to the track, here a quick look at the notes I made at the time:
Shout out to the performers at the start – that's nice.
Groovy start WAIT ARE THOSE KIDS PLAYING WITH GUMBY? THIS IS FANTASTIC! WHY DON'T WE DO THIS MORE OFTEN?
I feel for whoever had to maintain timing for 40 sets of percussion instruments playing simultaneously.
I feel for the video choreographer too.
I'm really starting to feel the beat now. Need to start headbanging.
Xulfi's managed to make the minimal guitars work surprisingly well with the drum-overload.
Junaid's voice really shines through all the instruments – powerful stuff. Having everyone present join in the chorus chant really makes your body want to leap in the air and join in.
Very impressed that each type of instrument is given space to shine, that's some great vision on Xulfi's part.
Perhaps could have ditched the grimy/muted palette that typically gets associated with rock videos – some vibrant colours could have really made this shine, but perhaps taken the focus away from the music?
Producer Zulfiqar J. Khan, known best as Xulfi, spoke about the project and said, "As Pakistanis, there is no chant that feels more fulfilling than screaming Pakistan Zindabad!"
Overall, I was thoroughly impressed to see (and hear) this collaboration. Xulfi and Call made a smart move in bringing together veteran musicians and aspiring children and prodigies to play their hearts out on a punchy and patriotic number. Give us more of this Xulfi, you rock!