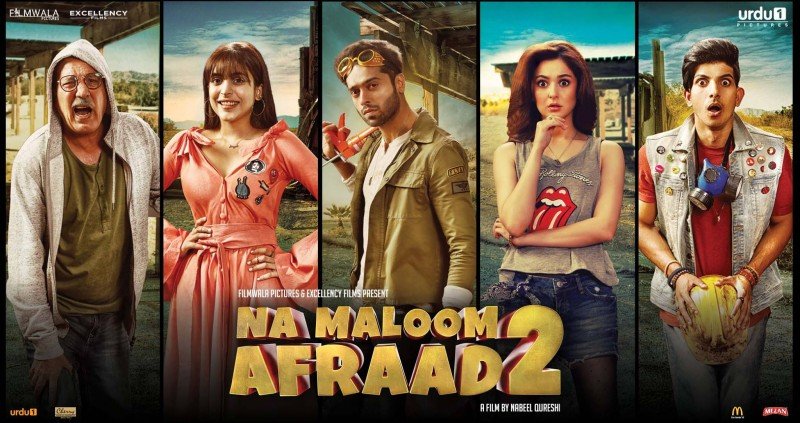 I was one of those who had fun watching Na Maloom Afraad and was looking forward to this sequel. So I waited for Wednesday patiently as I've membership of a cinema.
The story that has Fahad Mustafa, Javaid Sheikh, Mohsin Abbas Haider, Urwa Hocane and Hania Amir in lead role revolves around the theft of gold commode of an Arabian Sheikh. Although it was a crowd puller cast and brand yet I will use the word "disgusting"
The only issue was that the writer didn't know where to draw a line between disgusted and funny. (Yes there's a line!) You can't eat your popcorns and watch o Javaid Sheikh pooping scenes.
Na Maloom Afraad one was definitely of less budget but it was a hit as the jokes, cast and scenarios were locally relatable. I remember laughing a lot at the Karachi slangs etc as they somewhat sound authentics.
I would blame the director to not be able to craft a narrative that moves flawlessly. The actors did a good job especially Fahad Mustafa, Javaid Sheikh and Mohsin. Why was the story so weak? Why weren't dialogues as funny?
The Arabian Sheikh cursing and talking in Urdu, clumsy dance moves of Fahad Mustafa and Mohsin Abbas (shirtless!) on the beach behind girls in bikinis and also the action scenes failed to leave a mark in audiences. Or was I expecting too much?
A lot of scenes reminded me of a flop Pakistani movie Jalaibee. I wish they had worked on the story more than the dresses and locations!

Urwa Hocane and Hania Amir have limited screen time. That was a plus point though as they failed to act in the movie. Although Sadaf Kanwal is ready for her debut in Bollywood. She was very comfortable in the dance number, which isn't normally the case with Pakistani actresses.
It is a good time pass but don't expect to laugh as much as you did earlier. Also, try not to eat while watching it. I will rate it 2/5