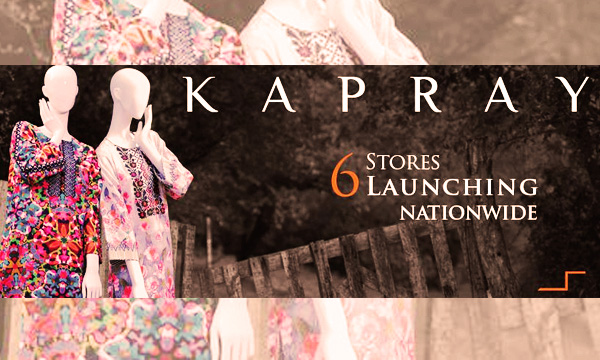 Kapray which is a clothing brand owned by Al-Rahim Textile Industries Ltd, has just launched six stores in Pakistan. The first of which was in Karachi, Dolmen City Mall in July. It has opened its doors for the public in Islamabad on 20th December. The overwhelming response from the crowd was a sole witness that people were eagerly waiting for the brand to land in the capital city. It brings you a diverse product line that ranges from Menswear, Womenswear, Childrenswear to Home Textiles and Furniture, Kapray has got it all.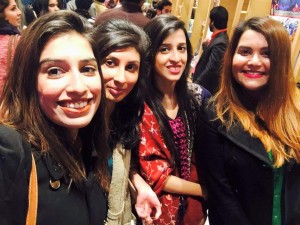 I was there with my other friends to experience the launch first hand (3rd from left). I must say that it was GRAND!
Uzair Jaswal  performed at the launch ceremony where Sulmeen Ansari was seen hosting the event. We could see renowned faces like Omayr Waqar etc.
Kapray has set out to bring you the latest fashion treads in record time. Their unique designs have influenced people who had always been a fan of elegance and finesse. I loved the way their designs were modern but with a touch of eastern style. Prices were reasonable which is plus point for middle class. Did they miss to add a category of luxury for upper class? Hmm.. I will need to research on it more at my next visit 😉
Alright so in short, there are many pros of Kapray; New designs, affordable prices, wide range covering from Men, women, kids to home decoration and accessories including shoes, bags, belts, jewelry etc.
The only prevailing issue is that the market is so saturated. With competitors like Gul Ahmed, Khadi, Nishat Linen etc, it will be tough for any brand to maintain loyalty in costumers. Nevertheless, let's see how it goes!
If you have not visited Karpay store in Centarus Islamabad yet, you are missing out alot.
Kapray Launch at Centaurus, Islamabad
Kids wear section
Men section
Women stitched collection
Unstitched collection
Home decoration