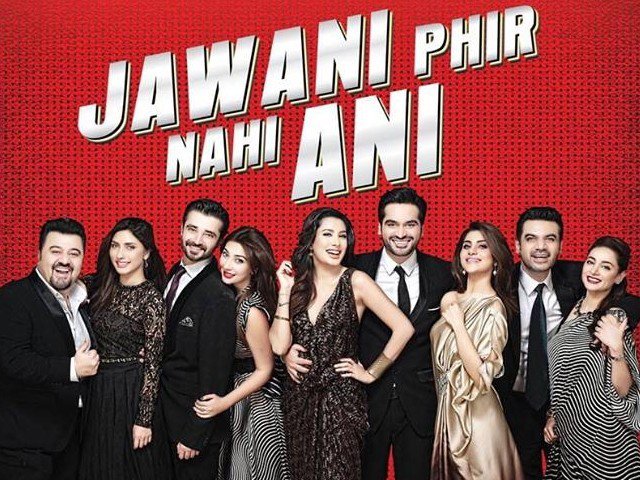 Pakistani cinema has improved, it is producing some mind blowing master pieces. Jawani Phir Nai Ani was released on Eid up Azha. Directed by Nadeem Baig and coproduced by Humayun Saeed.
The film stared Humayun Saeed, Hamza Ali Abbasi, Ahmad Ali Butt, Vasay Chaudhry, Mehwish Hayat  and Sohai Ali Abro in lead roles.
The film came with a blast, earned 5 crore in first three days in Pakistan. If you look for a full time fun with some amazing humor, this film is a must watch.
The story revolves around three characters, Hamza Ali Abbasi, Ahmad Ali Butt, Vasay Chaudhry  who desperately want a change from their boring routine and unromantic married life but there is no escape until they meet their childhood friend, Humayun Saeed who is single and very happy. (More like Masti, bollywood movie?)

All these friends make an escape plan for Bangkok. Where Humyun Saeed falls in love with Mehwish Hayat. The twist knocks in when their wives find out about the Bangkok trip.
All three of them faced some serious family drama. After the interval Humyun Saeed secretly tries to marry Sohai Ali Abro who is the only daughter of a rich business man Javaid Sheikh. But his friends didn't want to get married until and unless he helped them get their wives back. And in the end like every other movie, Jawani Phir nai ani has a happy ending where everyone gets happy in the end.
Pakistani cinema no doubt has boosted but at the same time it is forgetting its traditions, you might not agree with me but it's my own personal opinion that Jawani Phir Nai Ani would have rocked even without the copied scenes from Bollywood. We do not have to adopt Indian culture to promote our film industry, we have a lot of talent in Pakistan and our traditions and values are unique and much appreciated.
Also, there's a thin line between funny and lame. I hope our industry can maintain that.
I will rate it 3/5