With immense pleasure, I will love to review a new arrival in Lays family. The formidable pairing of sweet and savory, Honey Butter reminds me of caramel popcorn especially when you mix a bit of salty ones in it. Best would be to call it #KuchSweetKuchSalty
I appreciate the way Lay's is always coming up with new flavors. Honey Butter is a dream come true though! (for a caramel popcorn fan like me :D) The texture of the chips is fabulous as always though, adding a modern twist to the ultimate chip!
You could smell the buttery goodness when you rip open the bag.  Pop one chip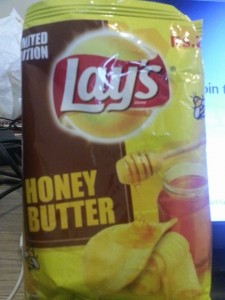 into your mouth and I BET you wouldn't be able to just stop there. This tasted so buttery and had a slight hint of honey towards the end, AND you'll still be able to taste the taste of the original Lay's chips. So many levels of flavors. So many levels of awesome. That sweet-savory combination just won me over. Oh gosh.
I was traveling from Islamabad to Lahore when I tried it first. I have to say that I kept munching it and pretty much skipped my breakfast and lunch. No regrets to that!
A truly different snack which can't be matched by any other in the market, it's akin to the coolest kid on the block! With the rising number of hip food fanatics in our country, we bet that this would become their ultimate choice to fulfill the sweet and salty cravings. Internationally, this flavor has got RAVE reviews and it taking Pakistan by storm!
A perfect substitute for caramel popcorn, we like to grab our packs while we are binge watching our favorite shows, or sharing it with friends on a movie night! Go on experiment, you wouldn't regret it!