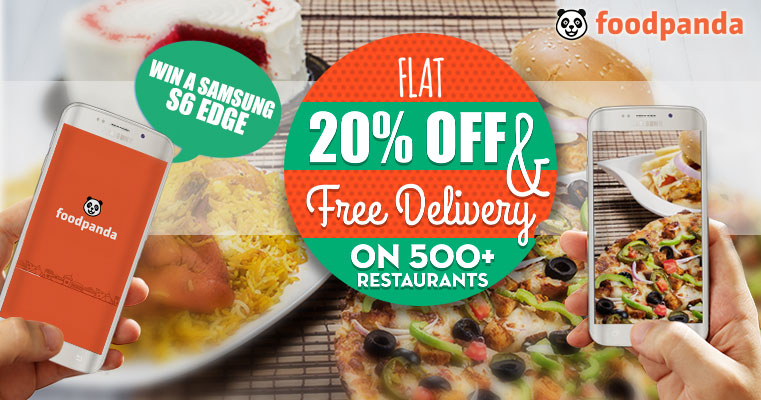 Cooking at home is now face to face with its nemesis foodpanda, Pakistan's no.1 mobile and online food ordering platform. On complete menus of more than 500 restaurants across Pakistan, foodpanda has activated flat 20% discounts and banished delivery charges for the entire month.
A good enough reason to lock down our kitchens and experience what the food ordering industry has to offer us. It turns out, the foodpanda research team had been digging in for gold and having found a strong corroboration to this platform, the campaign has been launched.
This is the first time an E-commerce company in Pakistan has achieved the valuation of being hundred percent consumer centric as the campaign is a result of complete understanding from consumer and industry demands.
"We constantly asked ourselves a question: how can we bring about a massive growth in the food ordering industry? Our objective solved the puzzle. We want to deliver what our customers expect of us.
Deliberating on industry trends, consumer preferences and inputs from restaurant partners we were able to come to a conclusion: The food ordering industry is hungry for growth. A flat 20% discount on entire menu and no delivery fees of more than 500 restaurants is bound to create that effect. It is what our customers want and we are prepared to deliver exactly that", says Omair Bakhsh, Marketing Manager foodpanda Pakistan.
The food ordering industry is likely to take a new shape as flat 20% discounts and banishing delivery fees has significantly challenged usual industry prices. To date, a proposition of such great value for money has never been put forward.
While Ramadan has slowed down business for food ordering industry, the flat 20% discount and no delivery fee campaign will rekindle lost love for delicious lunches and dinners.
"As far as the business is concerned, we're expecting an explosive growth this month, for us as well as the industry by delivering what customers want – best value for money campaign" Omair Bakhsh, Marketing Manager foodpanda adds further.
Foodies across the country can get greatest value for their money by ordering from foodpanda during 11th July – 31st July, 2016. Simply log in to foodpanda website or download foodpanda mobile app for iOS, Android and Windows Phone.