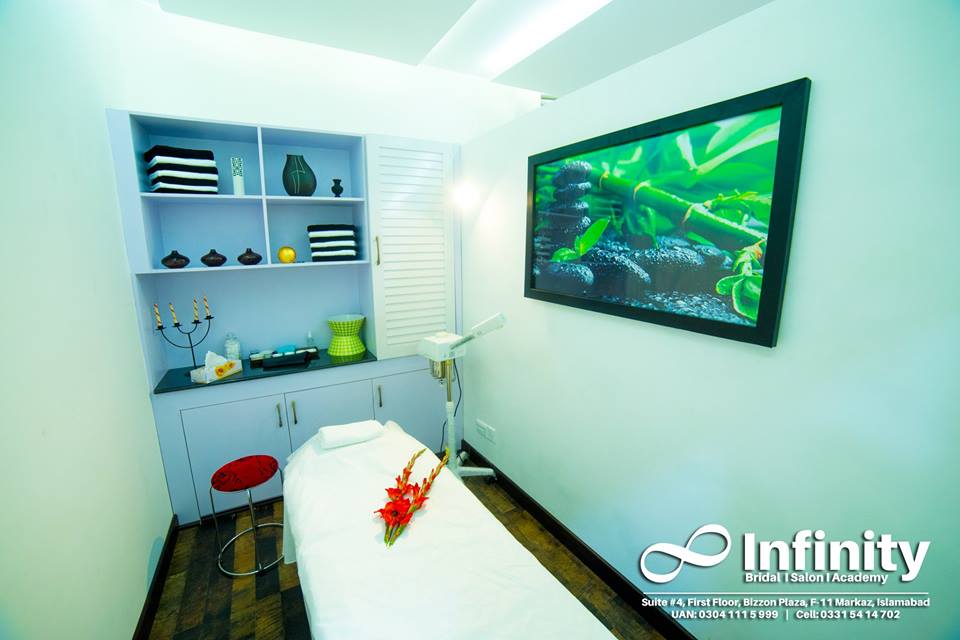 I was excited to review a new beauty salon in Islamabad, Infinity Salon. We girls know the pain of finding the best services and especially when the parlours are shifting from one place to another all the time. As my office is nearby, I was happy that finally there's a place with reasonable pricing. The first thought although was if their services are up to the mark or not.
I am very choosy and hardly satisfied when it comes to a facial. That's why I thought of testing them with it. Surprisingly, the products they used were of Thalgo (the best facial range for skin brightening). If I say that it was only a facial then it might be an understatement. The massage with it was so relaxing that I was afraid of dozing off in the middle. It was of more than an hour!
I later had the pleasure of getting manicure and pedicure as well. I was very impressed with the fact that they use fresh kit for each and every client. Even the sponges are used once per client. This is the kind of hygene that I was longing for! As many salons even fail to sterlise the tools before applying on others.  The hair expert was doing an awesome job with bringing in volume without shortening hair length.
I had a bit of a hair mishap recently and realised last week that I had a sudden increase in spilt ends.  As you may know, I HATE getting hair treatments; I'm very rarely happy with the end result and often it's like money going to waste. (sad, but true).  As the treatments are super expensive and yet results are same. I was so surprised by Fruit Extract Treatment of Infinity. I could feel the difference right after the first wash =)
One can notice the difference instantly after getting polishing (which isn't the skin thinning bleach). I will highly recommend it to all the ladies in my TL.
The experience itself was so relaxing and loving.  I had a chat with the owner, the staff and they talked me through as to what will suit me best. Surprisingly, I was also told what I might not be needing which isn't the case in many money making salons.
Atmosphere 5/5
Prices 5/5