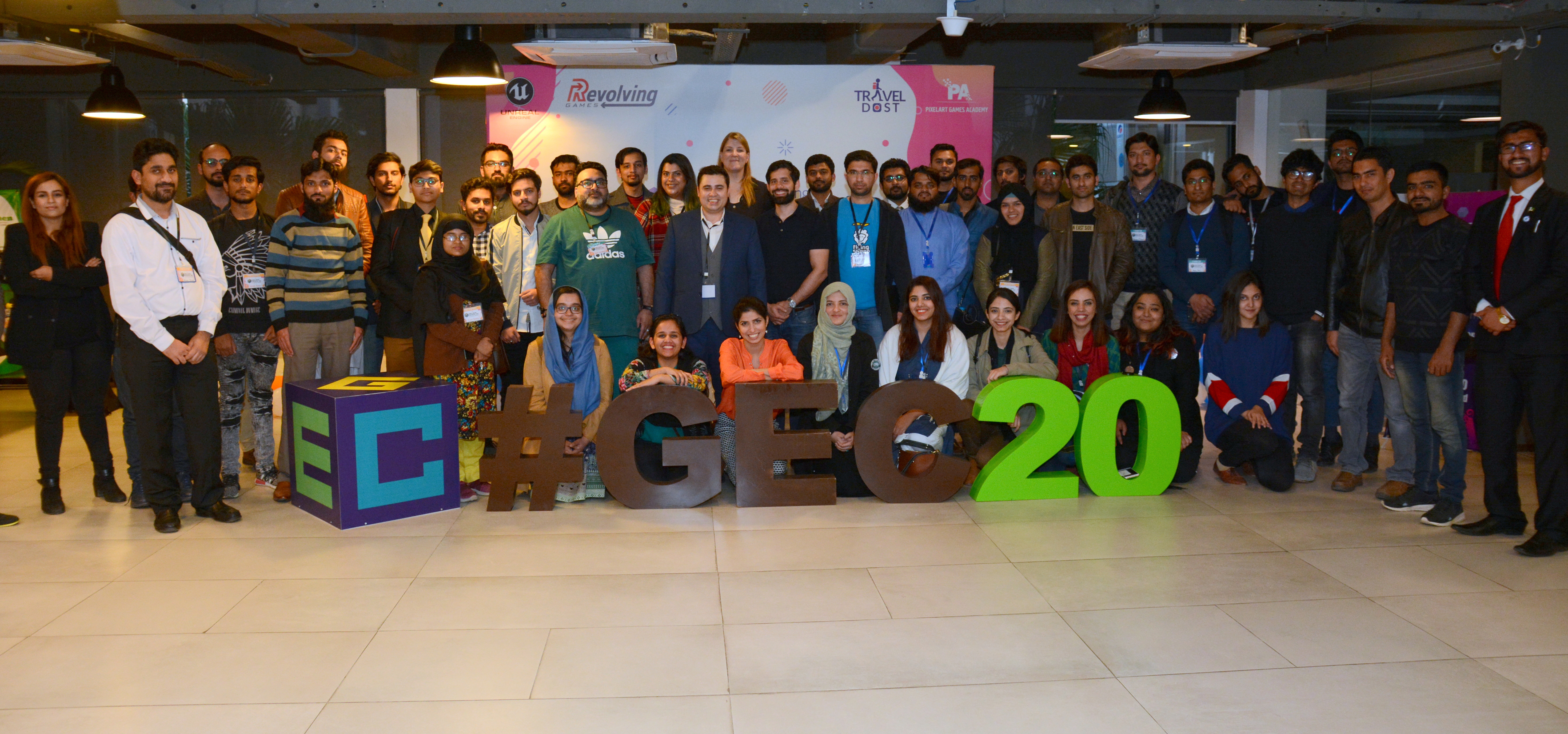 I was among one of the few lucky ones who got to experience the 2 day conference of GEC 2020 in Islamabad on 22nd and 23rd Feb, 2020. As the gaming industry is growing, many people are becoming more aware of the differences and similarities in different cultures giving many owners and designers a chance to provide more unusual, specific experiences that appeal to different types of players. It was a delight to see students and young game developers as participant who were eager to learn different aspects of gaming.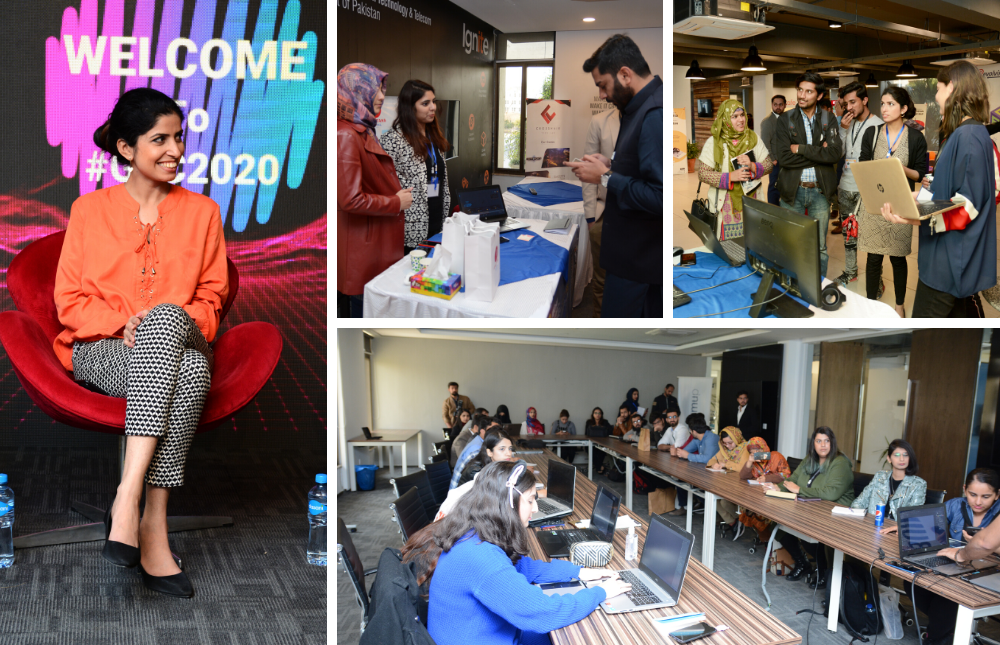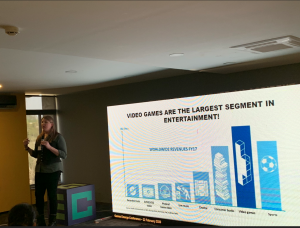 GEC 2020 continued the legacy of creating and promoting a vibrant community of game developers in Pakistan by bringing speakers from Iceland, UK and the US for online sessions, as well as local developers to speak onsite. What had started out as a humble conference in 2016 had now grown into a mighty event counting hundreds of attendees, many speakers and sponsors, but most importantly GEC 2020 had finally achieved a goal that had been set since the first GEC. For the first time, an international speaker, Kate Edwards, traveled to Pakistan to deliver a talk onsite.
Kate Edwards have been a part of gaming industry since last 27 years. She has been associated with giants like Call of Duty, Spiderman, Minecraft etc. She talked about significance of culture and how game content should be sensitive for diverse players throughout the world."The minimal amount of content to convey the presence of in-game "culture" should be there. Too much of it is not needed rather focus on logical consistency
"There's a certain fictional reality that comes in a play when you use such realistic maps. It's like author has been there and is now telling a story"@geogrify –#GEC20 #LetsGame pic.twitter.com/z0U5GkngXq

— Nabeha (@Nabehal) February 22, 2020
Different games developers where also able to exhibit their games at Games Showcase wherein they got guidance from professional mentors, potential investors, and publishers. Different indie developers and studios took part in the showcase. The entries were "Baby's First App" by Button Down Studios LLC, "Emily's Tale of Courage" by Crosshair Technology Lab, "R3: Rogue Robot on Rampage" by Noor binte Amir and Hammad Aamer, "Real Bottle Shooting" by Spartans Global, "Cooking Mania Master Chef – Lets Cook" by ZEKAB and "Takashi" by Horizon Games.
It is awesome to see how PGA is providing an opportunity to the budding industry of Games in Pakistan.  The nature of the conference was interactive so participants were able to ask questions from renowned speakers and there was also meet and greet session during hi-tea and lunches. 
Shayan Zaeem showing fizz dashboard which is an analytical tool that allows you to monitor your games users and manage community #LetsBegin pic.twitter.com/XQd20j9x5v

— Nabeha (@Nabehal) November 17, 2018
On the 2nd day, judges picked the 2 winners based on engagement, immersive qualities, social impact, and other criteria. Coming in at 1st position was "Emily's Tale of Courage" who received 50,000 PKR cash prize and award. 2nd Position went to "R3: Rogue Robot on Rampage" who received a 30,000 PKR cash prize and award.
A lot of information was also expressed about how to design and market a game successfully in Pakistan.GEC talks covered a variety of other topics, revolving around including Game Design & Production, Art & Animations, AI, UI/UX, User Research, localization and Quality Assurance. The speaker lineup included prominent games industry veterans, with few names recurring from previous GEC line-up's and some first time GEC speakers. The biggest highlight this year was Kate Edwards, Executive Director Global Game Jam and CEO Geogrify, who was visiting Pakistan in person to give her talk onsite. Other big names included Celia Hodent, Former Director of UX, Epic Games. Eve Thomas Co-founder, TRU LUV. Sigurður Ásgeir, Founder Drexler. Harry Aslam, Creative Director, Sideways Tiger. Richard Dagnall, Head of Independent Games/Music and Creativity, Howdoo. Elena Lobova, former CEO of Ilogos, and founder of Achiever's Hub. Matej Jan, CEO/Founder PixelArt Academy (California). Shayan Zaeem from Revolving Studios, Adil Najeeb & Shahmir Quidwai from WonderTree. Raheel Yawar, Flying Sheep Studios Germany. Samia Khalid, Senior Software Engineer Microsoft.
"People in Pakistan can afford smart phones even if they can't afford iOS. That is why we made adaptive performance measures to create games that can work on low end devices" @raheelyawar at #GEC20 organised by @PixelArtGA pic.twitter.com/NgrkWWS3QI

— Nabeha (@Nabehal) February 23, 2020
My favorite was the surprise activity held by PixelArt Games Academy during the soft launch of an app called Travel Dost. The announcement of Travel Dost at GEC included a fun-filled spin-the-wheel giveaway activity, which let conference attendees compete for gaming peripheral accessories such as Razer gaming mice, HP mechanical gaming keyboards, and TUF Gaming headsets. The Travel Dost team hid these giveaway prizes within 3 Lucky Spin Boxes. The winners got an in-game 'gift' from the Lucky Spin Box which they redeemed on the spot to avail their giveaway prize. The activity was a big hit with the audience of GEC and a huge relief for the development team of Travel Dost who were standing on the side, fingers crossed and praying that nothing goes wrong.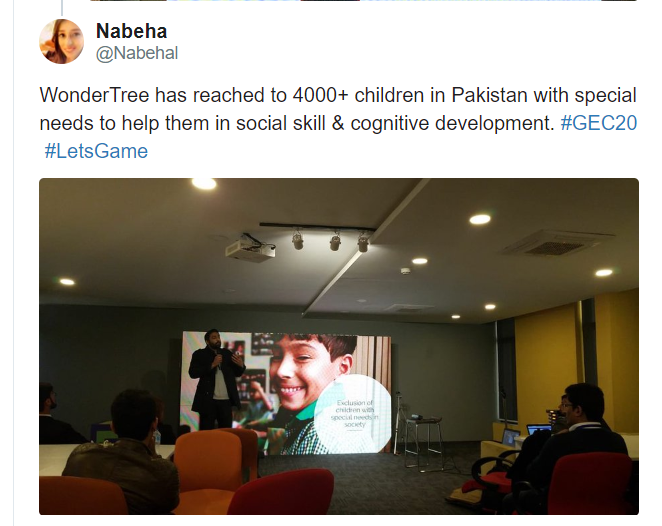 One of the more interesting sessions to take place at GEC was the "Creator's Story" by WonderTree, a Pakistani start-up that introduces computer games to kids with disabilities. Their games are played using a Kinect sensor which detects the gestures and body movements of the player. Wonder Tree targets children with down syndrome, ADHD, dyslexia, autism, cerebral palsy, and mental disabilities and aim to create entire educational curriculums which use games to their teaching potential.
There was a board of game ideas where participants added one liner game ideas. It was completely filled up by the end of the conference.
At the end of the event, a few people went out to GEC Mixer which was invite only for participants. This was an ideal opportunity for casual conversation with the speakers.
Here's the experience of a few who were part of Game Emergence Conference 2020 in their own words.
"I had a fantastic time at the Games Emerge Conference in Islamabad, definitely an eye-opening and enlightening experience to meet so many people in the Pakistani game creator community. There is a tremendous amount of talent working on great projects, and I'm eager to see their impact on the global game industry. As games are a collaboratively created form of digital art, conferences like GEC are vital to growing the local game development ecosystem, and I'm really honored that I was able to participate!" – Kate Edwards, Executive Director Global Game Jam & CEO Geogrify
"Being a student of computer science, I didn't know how I'm going to start my career in the game development industry. GEC is the very platform for the people like me in taking first step towards the industry and polish the existing skills." – Syed Muhammad Zaiem Abbas, Game Developer
"As a person trying to get in the field of Game dev without knowing much about the field the GEC was quite informative for me, seeing the Game development community coming together to share their knowledge was quite helpful." – Ibadullah Khalid, Student
"GEC is the premier networking conference for game developers at any level. It's an experience to be had." – Asad Chaudhary, CEO Button Down Studios